Looking for a way to strengthen your team at work? Or looking to celebrate with a holiday party. Whether you are looking to just show your team how much you appreciate them, coming together in the kitchen is an amazing way to build camaraderie and boost team morale.
Let our team set up a culinary treat that will dazzle your taste buds. Browse our event options below and then fill out the form at the bottom of the page to book your event.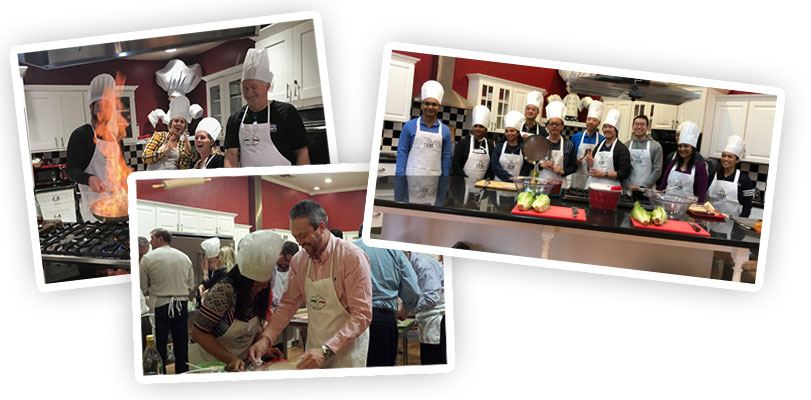 Little Italy
Alfredo & Marinara Sauces
ITALIAN BISTRO
Butter Leaf w/ Dijon Balsamic Dressing

White Chocolate Raspberry Cheesecake
A TASTE OF THAI
Chicken Satay with Peanut Sauce
PASTA WORKSHOP
Alfredo & Marinara Sauces
RAVIOLI WORKSHOP
(Ask about our seasonal filling options)
APPETIZER AND DESSERT ADDONS - EXAMPLE MENU OPTIONS
APPETIZER SELECTIONS
Prosciutto Gorgonzola Wraps

Marinated Mozzarella, Basil, & Tomato Skewers

Chicken & Mozzarella Wontons w/ Dipping Sauce

Sausage & Cheese Wonton Cups

Pork or Chicken Pot Stickers
DESSERT SELECTIONS
Mini White Chocolate Raspberry Cheesecakes

Red Velvet Cupcakes w/ Cream Cheese Frosting
Use the form below to reserve your event.  Our staff will contact you to confirm the your date and details.  You can also call or text 408-893-0890.